THANK YOU everyone who attended
our September 17, 2022 Annual Meeting!
We may all agree that we have a love/hate relationship with Zoom and the other online platforms . . .
The following candidates were unopposed and were elected unanimously:
The Executive Board:
President, Yvonne Walston
Vice-President, Yvette Arellano
Secretary, Elene Gusch
Treasurer, Steven Malins
BOD Members at large:
Robert Bibeau, Caterina Di Palma, and Tim Walsh
The floor was opened for anyone else who wished to become a board member, but there were no new volunteers at this time. NMSAAM members are welcome and encouraged to attend our virtual BOD meetings. To attend, contact info@nmsaam.org  72 hrs before to receive Zoom link. Meeting dates are posted on the website home page in Events, found by scrolling down from Updates.
Our active Committees include Communications, Continuing Education, Governance, Insurance, Legislation, Membership, Public Relations, and Website. If you would like to join a committee or simply send suggestions to a committee, please send a text to info@nmsaam.org.
Most of our members do not have time to be involved with NMSAAM other than paying the dues, and you are our backbone! Some of you donate additional money, which helps to pay our lobbyists. We had a fruitful conversation at this meeting with two of our three lobbyists, Michael Chavez and Sue Griffith. Please support our lobbyists by joining or renewing NMSAAM today!
We always strive to make NMSAAM and its BOD more professional, transparent, and easier for the next BOD and NMSAAM members.
The NMSAAM board (BOD) took the website back from the ASA host, which had messed it up, and rebuilt it.  Steve Malins gave a detailed overview of the new site, how to join or renew, and various membership levels and fees. He has since posted an Update on our web site for those of you who were unable to attend the meeting: https://nmsaam.org/nmsaam-needs-you-memberships-are-live/
What has NMSAAM been doing in 2021-2022 since our last Annual Meeting?
We hosted Two Town Halls for NMDOMs,
1. November 22, 2021, when NM Legislation and monitoring the BAOM were listed as the two greatest priorities preferred for NMSAAM by attendees.
2. February 26, 2022, where we discussed pertinent NM legislation such as
– The Health Security for New Mexico Campaign,
– How NMSAAM, with the help of our lobbyists, submitted a bill in the 2022 Legislative Session to add DOMs to the list of health care professionals who can claim tax credits for working in rural areas of the state,
– The upcoming sunset of our DOM practice act in 2024, and
– The national progress for HR 4803 to authorize Medicare to recognize acupuncturists as providers, aka Acupuncture for our Seniors ACT, Introduced by Rep Judy Chu (D-CA).
Last year NMSAAM had an in-person Celebration of our 40 years of licensure, with a fun raiser in Albuquerque, outside for safety on August 28 instead of our typical May, thanks to our PR Chair, Dr. Yvette Arellano, and she pulled it off again for our 41st year of licensure in NM this year on August 21st with a brunch.
We are consistently holding our annual NMSAAM meeting in September, still on Zoom, again with Dr. Steven Malins as our Zoom host.
This is the second year that we have an official Proclamation from our Governor Michelle Lujan Grishom that October 24th, 2022 is Acupuncture and Herbal Medicine Day!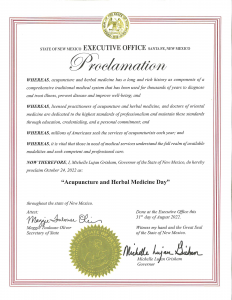 Michigan started celebrating it as Acupuncture and Oriental Medicine Day twenty years ago this year! Surprisingly, Michigan just got a license for acupuncture in their state, another step in their own journey.
We sent out free e-blast news and Facebook posts to NMDOMs, NMSAAM members or not, because we are passionate advocates for this medicine, and we want to keep you informed. We post articles and news on the NMSAAM website that are often referred and linked to in the shorter e-blasts and Facebook postings.
We can all be so proud of our board and committee members, who have been working hard behind the scenes during the pandemic, as has our national group, the ASA, the American Society of Acupuncturists, where NMSAAM is a state member of the ASA.
Together with ASA, we successfully blocked the elimination of acupuncture billing codes from the Center for Medicare and Medicaid Services, which affects other insurances and direct pay acupuncturists
In 2021, we began working with a lobbying group, as per NMSAAM DOM request. We need new members to put your money where your mouth is by joining NMSAAM to support this with just your dues.
Having allies in the Roundhouse has been instrumental for NMSAAM, and the interests of our DOM members.
We now have a seat at the table with key legislators and committees.
We're able to give input and sponsor bills, such as with the NM Health Securities Act, Medicaid coverage, and the Rural Tax Credit.
We are the collective voice of our profession in NM, and nationally as our state's voice in the ASA.
We are continuing our advocacy efforts in the 2023 NM Legislative Session, where our goals are to protect our valuable scope of practice and increase access to acupuncture medicine for all New Mexicans.
Join/Renew NMSAAM – NOW, where together, we have a voice, even if we are each wildly different from one another!
Please note: This article expresses the opinions and research of the author, and does not necessarily reflect all views or policies of NMSAAM members, the NMSAAM BOD, or the ASA.