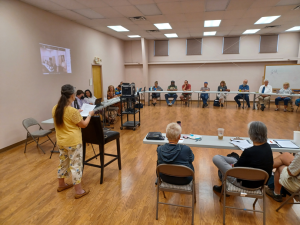 Other States with Herbal Medicine
Opportunities and News from the Trenches 
July 16 Town Hall presentation by Dr. Yvonne Walston, NMSAAM president
Thank you, Dr Bibeau, for your passionate and valuable material about herbal medicine. Our esteemed colleague is a difficult act to follow, but I will do my best, and speak to you about national herbal medicine and how to acquire that expertise .
First, we owe Dr. John Scott hearty thanks for the use of this space at Golden Flower Chinese Herbs, especially since he is unable to be here today. He hopes that DOMs can work together to answer current questions about adding an acupuncture license without herbal medicine.
As busy as we all are, it is easy to become myopic and unaware of the big picture, not even seeing it. We are professionals, and as professionals we need to look at what is best for our whole profession and not just for a few practitioners. If we don't do so, others will do it for us.
In May, I attended the American Society of Acupuncturists, the ASA, annual meeting. At the Friday Council Meeting, I heard about different states and have been following up with some delegates about the acupuncture license without herbal medicine issue. Note that when you are a member of NMSAAM, you are automatically a member of our national ASA.
Let me tell you about the current USA states use of herbal medicine and acupuncture.
The NCCAOM has updated their beautiful map that includes the statistics of the different states with and without herbal medicine.
34 states with Chinese herbology in their scope of practice
16 states (within the 34 states) that require Chinese herbology exam
13 states that have a scope of practice but do not have Chinese herbs in their scope
3 states that do not have a scope of practice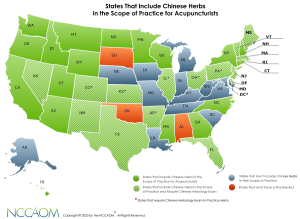 Mina Larson is the CEO of NCCAOM. She absolutely and thoroughly supports acupuncturists in the United States.
She says that there are a few states that do successfully have tiered acupuncture licensure, one with herbal medicine and one without. She has observed that it does require additional work for the individual state boards to set up, regulate, and manage the licensing process. If New Mexico ever decides to go in that direction, I can thankfully say that it is not my problem, since I am not on the New Mexico Board of Acupuncture and Oriental Medicine (NMBAOM).
Mina knows that Traditional Chinese Herbal Medicine is regulated by multiple agencies. Have any of you ever toured this facility with Dr. John Scott or one of his employees? You will learn all about this in action.
It is in the profession's best interest to demonstrate baseline level competencies with the NCCAOM Herbal exam. To ensure public safety, proper education and regulation of herbal practice is essential. Dr. Hickey, an MD who serves on the NM Human Health and Services Committee, appeared relieved at the Feb 17th hearing about SB 421 when he heard about the national herbal exam, and he called it regulation. He thought national certification and standards were important, and he supported the opponents to the bill, skeptical of lowering standards. One of my own patients, an MD, felt the same way as Dr. Hickey.
Herbal Medicine Opportunities 
Mina Larson will be speaking at our NMSAAM annual meeting on September 10 and will provide information on applying and taking the NCCAOM Chinese herbal exam if it was not in one's original training for acupuncture. She understands that sometimes people need to do their training in stages, as does Mark McKenzie from the Accreditation Commission for Acupuncture and Herbal Medicine (ACAHM), our accreditation body formerly called ACAOM.
Mark McKenzie has confirmed that standalone herbal educational programs are okay for the didactic part to achieve the ACAHM educational requirements of herbal medicine in order to sit for the NCCAOM herbal exam if the program has been accredited by ACAHM. ACAHM is currently reviewing distance learning programs for didactic portion of herbs. Students can work on the didactic part while working the mandatory practicum, or hands on with patients. The NCCAOM also offers a combination route that involves completing an apprenticeship with a preceptor combined with formal education hours at a school. There are many qualified DOM's in New Mexico that can complete this requirement.  Payment of the preceptors is between the student and the preceptor, and sometimes that can simply be worked off.
Generally, many states who are newer to scopes of practice for acupuncture are trying to catch up with those states that do practice Oriental Medicine, where there is both acupuncture and herbal medicine. New Mexico has been one of the leaders in that for 42 years, where New Mexico licensure began without herbs and added them after less than ten years to become DOM's.
More and more states are adding herbal scope to their state regulations and requiring the NCCAOM herbal exam.
Pertinent Ohio and Florida News from the trenches:
Ohio:
Gallina Roofener, AP, LAc, Dipl CH (NCCAOM), is an accomplished Chinese herbalist and acupuncturist and currently she is the president of FSOMA. She began working in the prestigious Cleveland Clinic as an acupuncturist in 2012, before there was tiered licensure in Ohio. The OM licensure was added to Ohio's scope in 2013, which allowed her to offer services of the Traditional Chinese Herbal Medicine Clinic at the Cleveland Clinic, starting in 2014. Thus she was the first acupuncturist to practice herbal medicine in a biomedical clinic in the USA. Of the 280 acupuncturists in Ohio at that time, about one third had the Oriental Medicine license. It took the Ohio association 3 years and a lot of money to amend the original Ohio acupuncture statutes to include TCHM in 2013. Note that Ohio's scope of practice is not as old as NM's.
In the meantime, there was a PhD candidate who was writing a dissertation and a white paper about small organizations, and he ascertained that licensing is an obstacle to practice somehow for dietitians and acupuncturists. Gallina says that what happened next was because they did not have lobbyists in Ohio. The Ohio legislature took the PhD candidate's dissertation as gospel. In December 2019, Ohio legislators passed the law that eliminated the Oriental Medicine License starting 04/2020. This deregulated herbal medicine and resulted in the closing of the TCHM Clinic at Cleveland Clinic, because TCHM practice was no longer clearly permitted by the scope of Ohio practice.
Unfortunately, the small size of the OH association did not support a lobbyist watching acupuncturists' interests, and the legislators did not consult with the medical board. Accordingly, OH acupuncturists were informed too late and could not stop the loss of OM license. It is very difficult to widen the scope of practice back up if it has been downsized; it is much easier just to continue the best practices of currently existing legislation.
It is sobering to think that a PhD candidate who has not gone to acupuncture school could have that much influence on the legislators who have also not gone to acupuncture school or even medical school.
Ohio just actually wrestled the ability to practice herbal medicine back, according to the latest materials that Mina Larson just sent me. Victory! One has to wonder if it cost more money to get it back than to add it to their practice act in the first place.
She also points out that Ohio acupuncturists are able to bill Medicaid, and she says that acupuncturists who choose to be on the Medicaid panels are both helping patients in Ohio and making stable reliable income. She points out that the most financially successful acupuncture practices are billing insurance, which includes Medicaid.
Florida:
Florida has a stronger and older scope of practice than Ohio, but some of us saw in the spring of this year, 2023, that there was some kind of mischief going on during their legislative session. An MD sponsored a bill to eliminate the acupuncture physician licensure (AP) title and to only allow acupuncturists with doctorate degrees to be called a doctor.
Florida has a strong association and a lobbyist watching the interests of acupuncturists. Florida State Oriental Medicine Association (FSOMA) was notified promptly about the proposed bill; and in response the FSOMA initiated a campaign to oppose the bill. Mina Larson, the CEO of NCCAOM, flew to Florida to educate the legislators on the extent of acupuncturists' education comparable to that of chiropractors, etc. The lobbyist and the many FSOMA members advocated in Tallahassee.
As a result of all efforts, the bill was vetoed by Governor for now, but the fight is not over yet. Florida will be opening the practice law and New Mexico is one of the states that FSOMA will be modeling new law after…She declared that New Mexico must preserve the Doctor of Oriental Medicine scope of practice and NOT downsize to the acupuncture technician!
Remember that with the help of our NMSAAM lobbyists, the NM Sunset Act was repealed, so that is a blessing. However, we must still pay attention to bills that seem to just appear.
Gallina says that our motivation is to look at the future. She points out that the ICD 11 includes Chapter 26 – Traditional Chinese Medicine codes, and it is already released by World Health Organization (WHO). In a few years it will be implemented in the US. As soon as ICD 11 is accepted, all acupuncturists who are on insurance panels most likely will be mandated to implement Electronic Medical Records.
Gallina is very willing to speak at our annual meeting about her expertise in herbal medicine.
Following my talk, we have 4 scheduled speakers, first two proponents followed by two opponents to the tiered licensure. They will each have 10 min to speak. We can all agree that we want patients to have better access to competent care.
Dr. Nityamo Lian, DOM, who is the newest member of the NMBAOM, a proponent of tiered acupuncture. She and I had a very pleasant lunch a bit after the Feb 17 hearing, and we agreed to disagree about the issue. She was an expert witness for SB421 at the Feb 17 hearing, and she presented first. Note that there were 7 DOMs present who were there to testify as expert witnesses against the bill.
Eleni Fredlund, aka Helen H. Fredlund, L.Ac. (MD), LMHC, EMT-I, with LA Cueva Volunteer FD, and Unit Leader for Integrative Wellness Medical Reserve Corps. SB421 is her bill, and she will discuss why she feels that acupuncture license without herbal medicine could help NM. Eleni, thank you for answering my email request about the credentials that you want listed here.
Dr. Brandon Taylor, DOM, Chair of the NMBAOM, opponent of the proposed acupuncture license without herbal medicine, expert witness on Feb 17.
Dr. Yvette Arellano, DOM, LMT, Native American and Shaman. NMSAAM Vice-President, Legislative and Public Relations Chair. She opposes the proposed tiered licensure for acupuncture.
Then we will have an ordered open floor, with 10 min each to speak.
Each speaker needs to state their full name, licensure status in all relevant states, license number(s) by state, NCCAOM diplomate status and associations in which they are involved.
Please do not interrupt speakers, although NMSAAM BOD members may ask questions of speakers at any time.
In-Person licensed DOMs
In-Person unlicensed
Virtual/On-line licensed DOMs
Virtual/On-line unlicensed
Remember that nothing can be done with a bill to change licensure until the 2025 legislative session, so we all have some time to figure this out.
NMSAAM certainly appreciated Dr. Nityamo Lian and Eleni Fredlund helping at the Acupuncture Day at Roundhouse on January 31st this year.
NMSAAM BOD who are present at the July 16 Town Hall:
Myself, Dr. Yvonne Wylie Walston, DOM, CMI, NMSAAM President
Dr. Yvette Arellano, DOM, LMT, Native American and Shaman. Vice-President, Legislative and Public Relations Chair
Dr. Elene Gusch, DOM and amazing secretary (retiring ) of NMSAAM
Dr. Steve Malins, DOM, Treasurer, Webmaster and Governance Chair.
Dr. Robert Bibeau, DOM, Capt. US MRC (Ret), National Surgeon Military Oder of the Purple Heart, and NMSAAM Director
Dr. Caterina di Palma, DOM, NMSAAM Director and on line via Zoom
(Dr. Tim Walsh, DOM, NMSAAM Director, was unable to participate today)
Please note: This written speech was revised 09/22/23 to correct "tiered licensure" to "acupuncture without herbal medicine," because NM already has tiered licensure with 1) Acudetox 2) DOMs and 3) DOMs with expanded practice of injection therapy.
This article expresses the opinions and research of the author, and does not necessarily reflect all views or policies of NMSAAM members, the NMSAAM BOD, or the ASA.